As the charitable season is well and truly upon us it seems only fitting that Nick and Ian's cheque handover took place this week to the truly deserving Leicester NHS's Raising Health Vest Appeal. Back in September Giant's two cyclists took part in Deloitte's Ride Across Britain from Land's End to John O'Groats. 9 days, 969 miles and a whole lot of muddy campsites, sweat and tears (manly ones of course) later they had completed their gruelling challenge.
When we asked Ian about the experience he had this to say;
"The bike ride itself was difficult enough, never mind Storm Eileen's decision to grace us with her presence every step of the way. It really was a test of mental and physical strength. However knowing we were making a huge difference to the lives of poorly children really did push us on through the most punishing stages (& the camping!).
The goal of Raising Health's vest appeal is to enhance and improve the lives of children in Leicester, Leicestershire and Rutland, who suffer from debilitating respiratory illnesses. Raising Health's projects focuses on fundraising to buy Hill Rom vests, a high frequency chest wall oscillator that assists with chest clearance in children with weakened chest muscles. These vests are a godsend, allowing the children to be cared for at home instead of the hospital, improving the quality of life for the children and their families.
Nick and Ian managed to arrange an incredible £4593 in sponsorship through generous supplier, customer & family support, and then they topped this up by a final donation from Giant to reach their goal £6000 thus enabling the supply of another vital Hill Rom vest.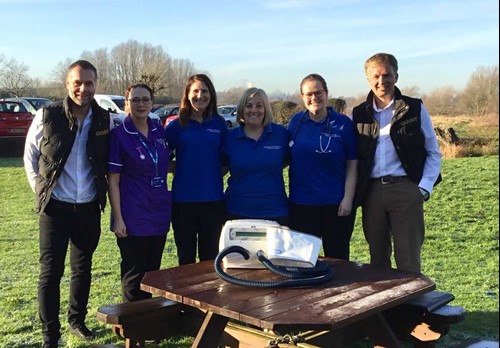 Ian, Nick and nurses from Diana Children's Community Nursing service pictured with the vest.
The ride certainly wasn't for the faint hearted. It rained every single day and more than 150 out of the original 600 riders did not complete the challenge. It was Nick's first time at the Ride Across Britain; "Some days a snorkel would have been more useful than pedals. I certainly did look forward to the pint of Guinness at the end of each day. The great camaraderie between riders and our very deserving cause really did make every ache worth it though."
We wish all the children and their families under the care of the Diana Children's Community Nursing service a very happy and hopefully hospital free Christmas. Will Ian and Nick be entering again next year? Watch this space!